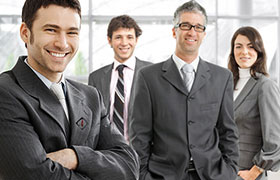 Premium Human Resources PHR has built a team of, very competent, skillful and experienced employees with local administrative specializations.
PHR is thus placed in a context of service and making available personal widely to areas of strategic importance. The experience acquired over the years allows us to practice flexibility and versatility in our offer , appropriate methodologies and economic achievements.
Our company offers the expertise and experience of its staff acquired through many years of work in international companies in the energy and oil industry.
Regarding the fields of law and complex issues such as the transfer of contracts employees of a company to another, PHR has great central agreement with KPMG, allowing fluid management of such concerns.
Our
Activities
Our objective is to be recognized as the Leader in HR support and consultancy providing to our demanding customers:
PHR will provide you with a highly qualified, equipped and specialized employees in the different interventions in industrial, maintenance, offices, oilfield…
Our Goal is to be our custumers best support, taking all possible responsibilities to allow our customers to concentrate on their core business rather than managing HR concerns.
We can provide solutions for :
Comprehensive recruiting solution from helper to highly qualified engineers, managers, technicians,… PHR has a wide international experience providing qualified consultants for leaders in international oilfield companies.
HR management within our client structure : Because our reputation and our will to be recognized as the best HR Service provider is our most valuable asset, we strive to provide the best services you can expect. Unlike any of our competitors, For large projects we can make available a Human Resources Service Manager HRSM who will :

Be the focal HR point of all our employees within your organization
Be your focal point to address any concern, any new query
Travel to the sites within all location in the country to monitor / react / encourage and motivate the workforce made available to you
Visit on periodic manner the fields
Present quarterly KPIs reports

Outsourcing non-essential / non-permanent employees
Payroll : Our payroll management is Innovative , secure and flawless:

We have hired an IT company to integrate an advanced payroll application online.

The payroll is defined by our customers; the payslip treated by our team with our advanced software such as every employee can access online his/her payroll the minute it has been issued.

Every employee will have a PHR login and password and will be able to access his private space to download his/herpayslip. Message/ flash information can be published by employee's categories.

Social security inscription and follow up
Transportation : In some cases, our customer can prefer to outsource the transportation from or to the offices or work sites. PHR can provide transportation solution.
Accommodation : Because it is time consuming and costly for our customers, PHR can provide solutions to accommodate the employees everywhere in the country including in the south and remote areas.